The postman has just just dropped off a parcel from Romania. Sadly it isn't a dragon egg, but happily it's a couple of Wespe resin models. They are a Opel Kapitan staff car and Citroen 45 3 ton truck.
These are wonderfully done resin models in 1/72 scale, but they aren't like any of the budget war gaming resin models I have bought so far. These are premium display quality moulds with a huge amount of fine detail.
Above: Inside the box, protected by a layer of bubble-wrap, is a bag of
components - a lot of components! Here are the parts for the Citroen 45,
nothing like any of the resin models I have had so far.
These models were bought for my Finnish army HQ Battalion and represent my commanders staff car and my Engineer Company's truck. Finland received a large quantity of Citroen 45 trucks from their German allies (OK, we have all made bad friend choices at one time!) and the Opel will be converted into the similar looking 1940 4-door Sedan as the Finns made use of a large number of American cars of the pre and early war period (mainly Plymouth and Fords).
Above: The lovely 1940 Ford Sedan, suspiciously similar in design to the German
1939 Opel Kapitan. Handy for me as it means just some minor cosmetic
modifications to my Wespe model to turn it into this American classic car.
Above: The 1939 Opel Kapitan. Photo source: Wikipedia
A quick look through the boxes and their contents is enough to impress me. There are a large number of finely made components in each box along with a photocopied inventory of parts and a sheet of 'instructions' (just a diagram of the orientation of parts really).
One thing I liked was that each instruction sheet was hand signed by a Wespe staff member to show that the kit contents had been checked before dispatch.
I can't see any downsides, other than perhaps hat there are no colour scheme suggestions except the one that's on the box, decals of windscreens cut to size (you get a rectangular sheet of transparent plastic instead). But I guess, if like me, you want to buy these niche vehicles you have a pretty good idea about how you want to paint them. Though I guess war-gamers might wince at the price of these models (I did try the SHQ Citroen 45, but this white metal model was so bad that I immediately assigned it to my scrap box).
Above: Each kit comes with an inventory sheet, this being the sheet for the
Citroen. As you can see, some of the parts are quite delicate but there is
an welcome absence of flash.
Interestingly the Citroen 45 has quite a wide variety of possible uses, from 1940 French army to North African Vichy or French colonial and also Wehrmacht (for which an estimated 15,000 vehicles were produced during the occupation), captured Soviet as well as Finnish.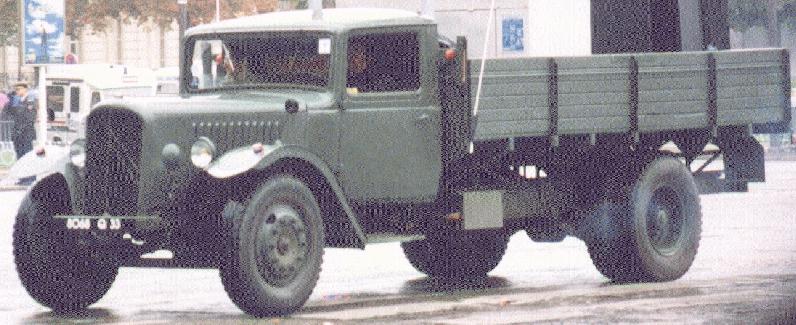 Above: The Citroen 45 3 ton truck. Photo source: Denis Orlov, Moscow.
The delivery time to the UK from Romania took two weeks, but that was during the Christmas period, and I was supplied a tracking code by Wespe. So overall I am very pleased with this purchase