I'm not really sure what the plural word for a brace of Blitz trucks is, but whatever it is I be a Blitz'n!
Although my Pegasus 'German Army Truck' didn't turn out to be a Blitz at all it started a theme and I now have no less that three Opel Blitz related projects on the go at the same time. The Pegasus truck will be inheriting some Blitz parts to add extra detail and I also have a conversion job utilising the main parts from an old Italeri Blitz kit. Finally, I will be working on a straight out the box 100% Opel Blitz for my Finnish Army project.
The conversion job is based on a
ModellTrans Modellbau
resin Ford V3000 cab which is designed - in theory - to fit onto the chassis of the old 1/72 Italeri/ESCI Open Blitz kit.
A marriage made in hell if there was ever one according to a few of the online reviews of the Italeri Blitz model.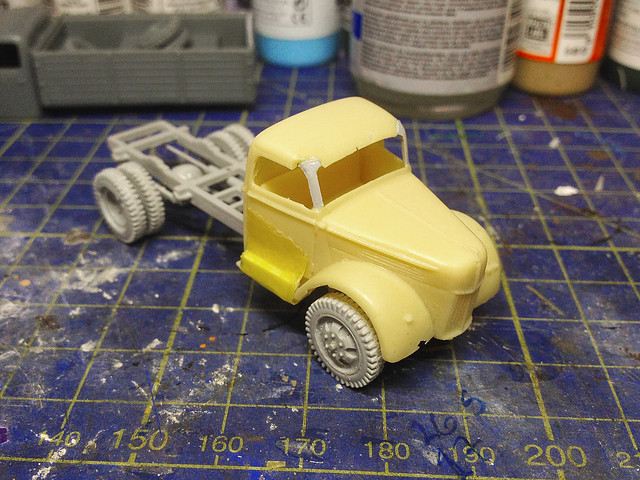 I've had this resin conversion 'kit' for a while now, it was quite expensive and had to be sourced from Eastern Europe and when it arrived I found that the support pillars on the cab were broken and missing! But when I came across one of the Italeri Opel's going very cheap I decided to give it a go anyway.
Despite the fact that the ModellTrans conversion parts are supposed to be specifically designed to fit the Italeri chassis I found very little clue to that when I tried putting them together. But in MT's defence I did try to fit the original Blitz cab just to see how it went together and that didn't fit too well either!
On the other hand, the Academy model looks very promising and has some good reviews.
Again, I picked this kit up very cheaply (£4.25, thank you very much) at a local store and really look forward to making a kit that should be very detailed and accurate straight out the box (for a change)!
The Finns bought a reasonable quantity of Opel Blitz truck from the Germans in WW2 and I wanted something capable of towing the German PAK 75 (which the Finns also imported). The two seem to be an ideal pairing, I would like another of these kits but I doubt I will get one at that price again.
So there you go. My little work bench is awash with German trucks at the moment.